About School
The School of Medicine aims to prepare its students to be global leaders in all aspects of health care. The noble profession of medicine has considerable demands and immeasurable rewards. Our goal is not simply to create 'doctors' but 'medical scholars' imbued with a lifelong desire for knowledge and service.
Studying medicine at The School is a great opportunity which brings you close to the frontier of current scientific knowledge and sets you upon a path towards the noble profession of medicine within a unique model of medical education which we believe is second to none. In addition to rendering quality education, we endeavor to see our students grow academically, professionally and socially. These characteristics we believe will soon see American University of Barbados evolve as one of the most sought-after names in the field of medicine.
Our faculty and staff represents some of the finest to be found in any medical school and we pride ourselves on their commitment to teaching as well as their pre-eminence within their fields. Our US based medical curriculum is designed specifically to meet the licensing requirements in United States and other nations around the globe. The balanced student-faculty ratio allows for highly personalized discussions and interactions between students and professors. During the Clinical Science Program Rotations our students get the opportunity to participate in supervised patient care rotating through varies medical specialties.
Globalization in healthcare is a reality. Magnetic resonance images taken in California are analyzed in Mumbai. A Specialist in Connecticut can 'tele-mentor' a student in Brazil. Our students come from diverse backgrounds with rich experiences that make up a truly cosmopolitan community of scholars at The School. It gives the students an opportunity to have a global clinical experience and prepares them for residency and beyond. The global outreach of our faculty and administration ensures that our students have significant options for study in abroad and are welcomed to a group of opportunities without boundary. The School continually reviews opportunities to broaden the clinical exposure of our students in the United States and other countries. The School of Medicine serves as the launch pad to medical professionals and guides them in providing better health care thereby alleviating suffering from the communities around the world.
VISION & MISSION
VISION
The School aspires to produce medical graduates who are emotionally and culturally sensitive with the worldclass competence, so that they can be valued and respected as responsible citizens. The aim of the university is not only to produce medical doctors with a good clinical knowledge, but also to instill in them ethics and values by which they can treat their patients with a human touch.
MISSION
The School seeks to provide world-class medical education with advanced and innovative technology in an environment that fosters appreciative enquiry, human sensitivity and collaborative research aimed at reducing human suffering and pain.
CORE VALUES AND LEARNING BELIEFS
Committed to excellence, The School believes that it is our mission to inspire our students to strive for and meet high levels of academics and personal achievements. We believe that the respectful, supportive and engaging learning environment at AUB instills intellectual curiosity, a passion for learning, as well as an understanding of one's role in the local community and in a diverse global society.
LISTING, RECOGNITIONS AND ACCREDITATIONS
The School of Medicine, carries multiple accreditations, recognitions and listings in national and international bodies.
CHARTER
The School of Medicine is Chartered, Licensed and Recognized by the Ministry of Education, Science and Technology, Government of Barbados.
Barbados Accreditation Council
The School is accredited by Barbados Accreditation Council (BAC).
CAAM-HP
The School has been awarded provisional accreditation status by the Caribbean Accreditation Authority for Education in Medicine and other Health Professions (CAAM-HP).
World Directory of Medical School (WDMS)
The School is currently listed in WDMS which has been developed through a partnership between the World Federation for Medical Education (WFME) and the Foundation for Advancement of International Medical Education and Research (FAIMER) in collaboration with the World Health Organization and the University of Copenhagen. This has replaced AVICENNA directory which was previously maintained by World Health Organization and International Medical Education Directory (IMED) maintained by FAIMER.
Educational Commission for Foreign Medical Graduates (ECFMG)
ECFMG is a world leader in promoting quality health care. American University of Barbados is compliant with the ECFMG rule applicable from 2023 that all international medical graduates must graduate from an accredited medical school in order to obtain residencies.
Medical Council of Canada (MCC)
The School is recognized by the Medical Council of Canada and our students are eligible to appear for the Medical Council of Canada Evaluating Examination (MCCEE) for their Licentiate of the Medical Council of Canada (LMCC).
Medical Council of India (MCI)
The School is recognized and listed with the Medical Council of India.
SALIENT FEATURES OF AUB
1
STRUCTURED INTEGRATION METHODOLOGY
Teaching through Structured Integration Methodology and Problem Based Learning.
02
MEDICAL GAMES CENTRE
3D Animation, Simulation and Medical Games Centre.
03
SCHOLARSHIPS
Affordable fee for MD Program with options for scholarships.
04
DIVERSE STUDENT COMMUNITY
Experience of studying in an establishment consisting of a Diverse Student Community that enables awareness of varied cultural practices.
05
USA APPROVED CURRICULUM
USMLE focused teaching with USA style and approved curriculum.
06
CLINICAL ROTATIONS
Clinical Rotations in USA and other countries.
07
MEDICAL PROFESSIONALS
The School students can practice as medical professionals anywhere after giving the requisite examination of the country of their choice.
08
MEDICAL LICENSE
Medical licence for graduates in USA and other countries upon successful completion of USMLE STEP 1 and 2.
09
MCI'S SCREENING TEST
The School graduates of Indian origin can practice as medical professionals in India after appearing in MCI'S Screening test.
10
BOOKS AND JOURNALS
Access to more than 10,000 books and journals in online library.
ACADEMICS
The School offers a balanced medical curriculum comparable to US medical schools and designed to help prepare students to practice medicine in the US, UK and also the Caribbean. The medical sciences curriculum is taught on The School campus in the island. The campus is technologically advanced with a new Medical Science Resource center and anatomy lab. Students complete their clinical training in affiliated teaching hospitals in the United States and United Kingdom. Sessions commence in January, May, and September, with semester terms of 16 weeks in duration.
PROGRAM OFFERED
5 1/2 years MD Program (Pre medical + Basic Science + Clinical Science)
4 years MD Program (Basic Science + Clinical Science)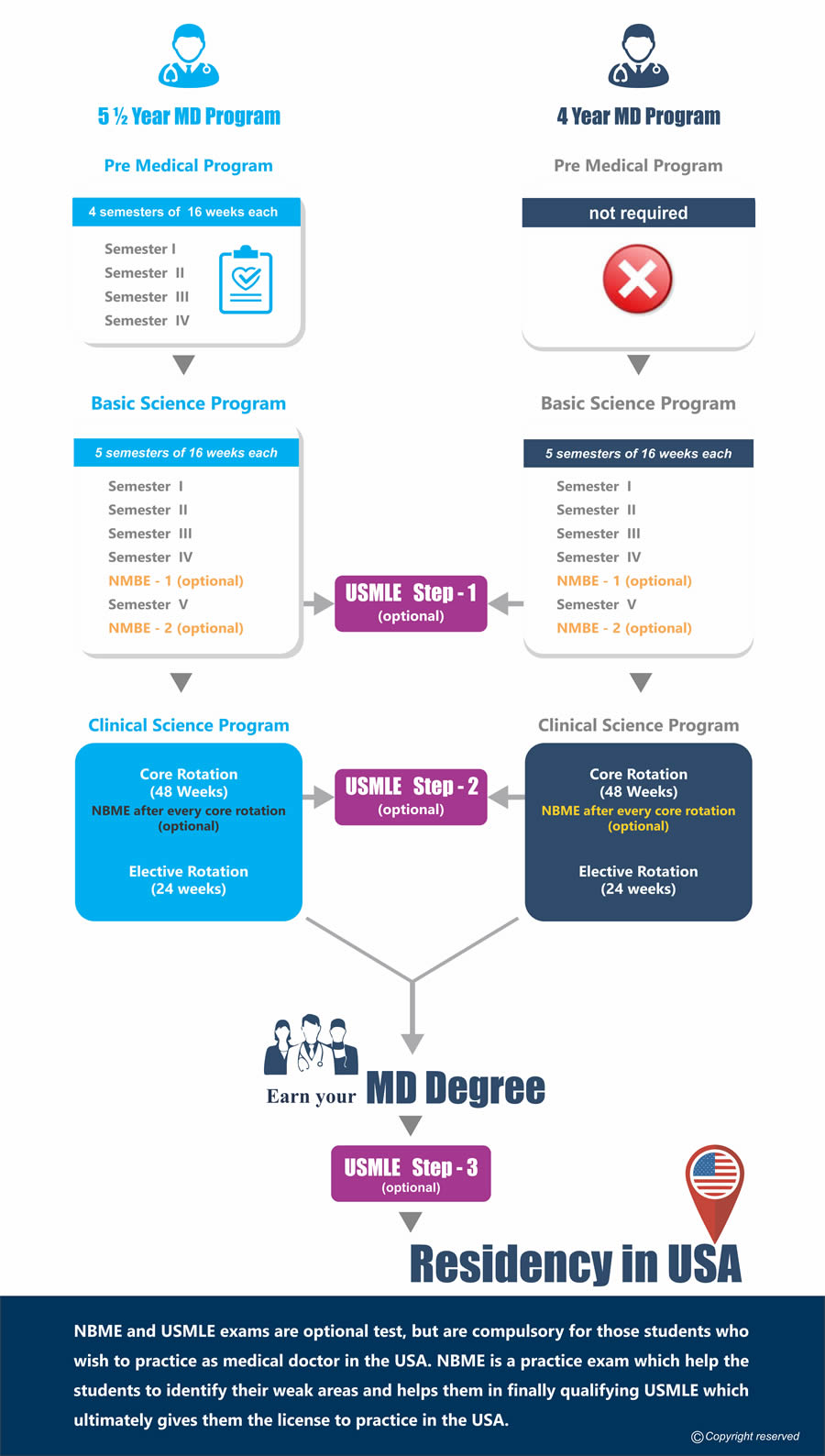 Tuition and Fees
GENERAL FEES
Application Fee: $100 (Non-refundable)
Student Visa and Processing Fee: $250 (Non-refundable)
TUITION FEE FOR OUR PROGRAMS
PRE MEDICAL
| Semester | Fee (in US Dollars) |
| --- | --- |
| Semester I | $ 5,500 |
| Semester II | $ 5,500 |
| Semester III | $ 5,500 |
| Semester Iv | $ 5,500 |
BASIC SCIENCES
| Semester | Fee (in US Dollars) |
| --- | --- |
| Semester I | $ 8,500 |
| Semester II | $ 8,500 |
| Semester III | $ 8,500 |
| Semester IV | $ 8,500 |
| Semester V (Pre-Clinical) | $ 9,500 |
CLINICAL SCIENCES
| Semester | Fee (in US Dollars) |
| --- | --- |
| Semester I | $ 11,500 |
| Semester II | $ 11,500 |
| Semester III | $ 11,500 |
| Semester Iv | $ 11,500 |
| Semester V | $ 11,500 |
| Semester VI | $ 11,500 |
REFUND POLICY
The Refund Policy applies for students who choose to pay the complete tuition fee for the semester. The refund facility is not applicable for students who opt for tuition payment plan options and Transfer students who join the program in the middle of the course.
TUITION REFUND
In case a continuing student leaves the School after the beginning of a semester the following tuition refund policy will apply:
 Refund application received after 30 days from the date of leaving school will not be eligible for refund.

 In case the attendance is of 2 weeks or less the refund will be 50%

 In case the attendance is of 3 weeks or less the refund will be 40%

 In case the attendance is of 4 weeks or less the refund will be 30%

 In case the attendance is more then 4 weeks then there will be No refund
METHOD OF WITHDRAWALS
Request for withdrawal from the school of medicine must be addressed to the Dean of the academic medicine and must be in writing. Date of withdrawal will be the day, the Dean receives the hand-delivered request or the day on which the notice is received through mail or any other delivery system. Charges such as deposits, fees, printed material, etc. are neither prorated nor refunded. A refund shall only be given where the cause of withdrawal is justified by reason of emergency. The refund shall be given within 90 days of withdrawal. In case of withdrawal prior to matriculation, the University levies an administrative charge of $ 500.
MISCELLANEOUS EXPENSES
HOUSING, TRANSPORTATION AND LIVING EXPENSES
$500 to $800 /month
TEXTBOOKS
Most of the required textbooks are available in the Library. However, it is advisable that the students may purchase their own books.
CLINICAL ATTIRE AND MEDICAL KITS
Students would require Lab coat and safety goggles during Premedical program. As the students enter into the MD program they should have an Examination kit containing stethoscope, BP apparatus, torch, measuring tape, reflex hammer, tuning fork, otoscope and suturing kit for physical diagnosis course. The students must procure the requisite before commencement of the respective programs.
HEALTH INSURANCE
Health Insurance is mandatory while students are enrolled at The School. Students can either enroll in a plan provided by the university or can purchase their own insurance.